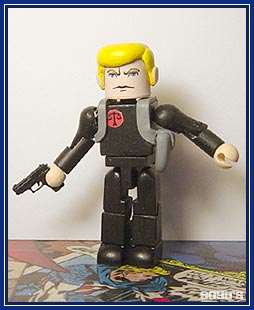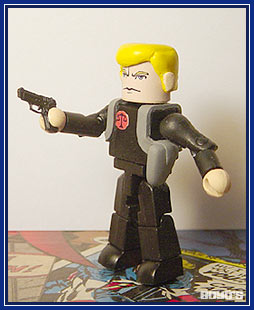 Government agent Tom Tresser's brother became a brainwashed killer, and he was going to bring the villains responsible to justice. So began the career of Nemesis, a cross between 70's vigilante hero and secret agent. Armed with fantastic disguises and special mercy bullets, Nemesis hunted the members of the villainous Council and brought them to justice by crashing a helicopter into their headquarters.
Nemesis has been seen in various titles over the years - with a long run in "Suicide Squad" - and currently spends his time working with Wonder Woman.
The Recipe
Nemesis is made from a repainted Minimate. His face is a digital printout, and his hair is made from Sculpey. His holster is made from a rubber band and Magic Sculpt. Nemesis is wielding a gun he borrowed from Bishop.
Originally posted August 2006