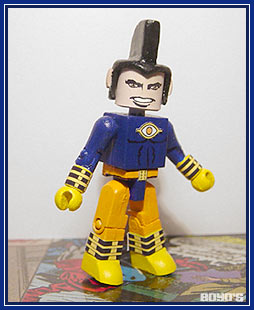 This isn't some new "nano-infected human turned superhuman killer" OMAC - this the the real deal, baby.
Created by Jack Kirby in 1974, OMAC was a sci-fi story set in the future. Buddy Blank, a general loser of a guy, is chosen by a giant computer in orbit named Brother Eye to become the One Man Army Corps! The stories dealt with OMAC fighting the threats that Kirby foresaw in the future - class divisions, genetic manipulation, virtual reality, dictators threatening the world, and killer robots.
The Recipe
OMAC is made from a repainted Minimate. His face (done in Kirby style) and costume details are digital printouts. His styling mohawk is made from Sculpey.
Originally posted September 2005