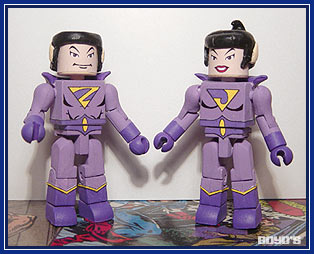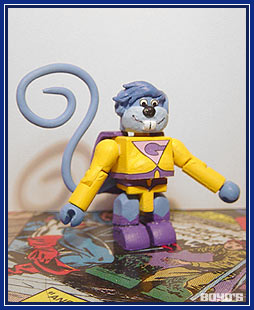 Created especially for the Super Friends cartoon, the Wonder Twins are a space alien brother and sister duo. Zan & Jayna trained with the Super Friends to one day become real super-heroes. Until that day, the Wonder Twins had to help with smaller emergencies, usually involving teenagers doing something stupid.
Zan & Jayna also had a pet space-monkey Gleek. You could tell he was a space monkey because he was blue and had a prehensile elastic tail.
The Recipe
Zan and Jayna's faces and costume details are digital printouts. Their hair was made from Sculpey, and high collars were made from MagicSculpt.

Gleek was made from a Minimate, with the legs trimmed to make him the right height. The face, belly, cape and tail were all done with Sculpey. Other face and suit details are digital printouts.

Gleek was made by my wife, Sarah. Thanks Sarah!
Originally posted October 2005