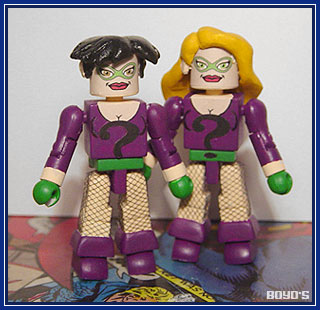 Successful super-villains hire henchmen to help with their crimes - usually burly men with low IQ's that can hit hard. But the Riddler has hired assistants that better fit his highly-stylized crimes - Echo and Query.
Echo and Query have been faithful assistants to the Riddler, providing brawn to the Riddler's brainy crimes. While very attractive females, Echo and Query are a dangerous, thrill-seeking pair who enjoy pain and crime.
The Recipe
Echo and Query are made from repainted Minimates. Their distinct fishnet stockings were made from netting glued to their legs. Their hair were made with Sculpey. Their boot cuffs were made from Magic Sculpt. Their faces and costume details are computer printouts.
Originally posted February 2007