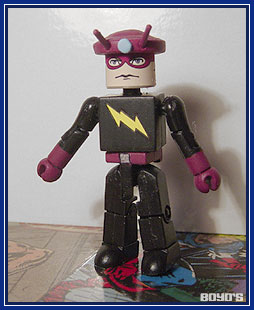 Steve Dayton was in love with Elasti-Girl, but was convinced that she wouldn't be interested in a simple genius businessman / billionaire. So he created the "Mento helmet" to give him mental powers and become a super-hero – all to impress Elasti-Girl.
It worked – Mento and Elasti-Girl fell in love, married, and lived happily ever after. Until Elasti-Girl was killed in a heroic sacrifice and Mento went mad and became a villain. But let's think about the good times.
The Recipe
Mento is made from a repainted Minimate. His face is a digital printout. His helmet is made with Sculpey and two of the claws from a Wolverine Minimate.
Originally posted April 2005