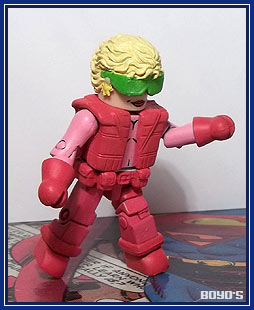 Tabitha Jones was a teenage runaway from an abusive father who didn't appreciate her mutant powers. She found a new family with the New Mutants, and found a new father figure with the future soldier Cable. Boom-Boom was one of the New Mutants who joined Cable in the creation of X-Force, a proactive mutant group who attacked mutant enemies before they attached them.
Yes, we got a Boomer from a recent Toys 'R Us line, but it didn't match her appearance in Rob Liefeld's classic X-Force #1. Especially when we already had the majority of that team from that issue in Minimate form. So I made this custom to satisfy my obsessive need.
The Recipe
Boom-Boom is made from a repainted Minimate. Her head, hair and boot cuffs come from the Boomer Minimate. Boom-Boom's jacket comes from the Cannonball Minimate, while her leg strap comes from a Deadpool Minimate. Her chest is from a water-transfer decal.
Originally posted August 2012