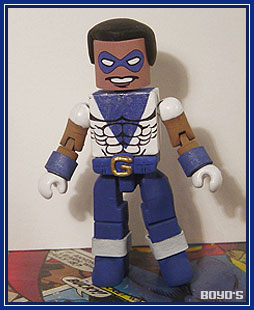 Trapped at a giant height, Dr. Henry Pym teamed up with Dr. Bill Foster to regain his ability to safely shrink. Dr. Foster would later use Pym's research to give himself growing powers and become Black Goliath!
After years of being a minor super-hero, Dr. Foster changed his name to Goliath, got a new costume and was ready to make a big comeback in the Marvel Universe. Unfortunately his comeback amounted to being killed by a cloned Thor.
This was Dr. Foster's last costume. May he rest in peace.
The Recipe
The Bill Foster Goliath is made from a 3" Kiss Minimate. His hair, belt pouches and belt buckle are made from Sculpey. His wrist and ankle bands are made from rubber bands. His face is a digital printout, and his chest is a water-transfer decal.
Originally posted May 2008