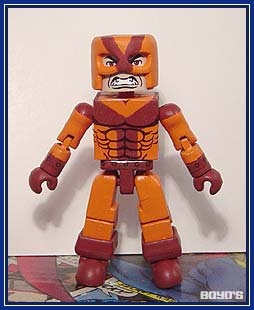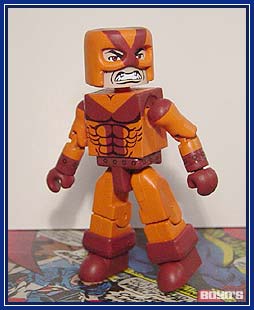 Erik Josten was a mercenary who gained super-strength and invulnerability from Baron Zemo's ionic ray projector. As the super-villain Power Man, Josten worked with the Masters of Evil and the Lethal Legion.
After years of defeat, Josten had much of his power stolen by Count Nefaria. Desperate to regain any power, Josten took a sample of Dr. Henry Pym's growth serum and gained the ability grow to giant sizes. Taking the name Goliath, he beat up a lot of super-heroes, from Iron Man to Wonder Man.
His best villainous moment was being part of Baron Zemo's Masters of Evil, where he beat Hercules into a coma. Way to be evil, Goliath!
The Recipe
Goliath is made from a 3" Kiss Minimate. His helmet is made from Sculpey. His face is a digital printout, and his chest and costume details are water-transfer decals.
Originally posted May 2008