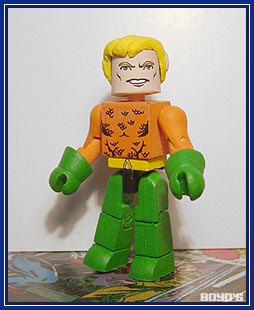 Yup, Aquaman. King of the Seven Seas. Breathes underwater and talks to fish. Made fun of for years and years because of the Superfriends cartoon.
He's a major character yet to be done in Minimate form. I'm expecting an announcement any minute now that DC Minimates are happening and Aquaman is in the first wave just to screw me over.
The Recipe
Aquaman is a repainted Minimate. His face and chest are digital printouts. His hair was made from Sculpey.
Originally posted October 2005