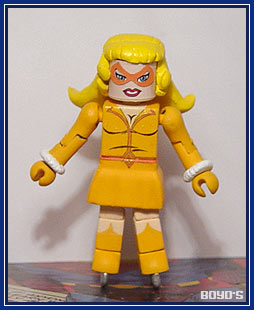 Lisa Snart was a top figure skater and performer who was also the sister of the notorious Flash foe, Captain Cold. While Lisa wasn't involved in crime, her lover and skating coach was the super-villain known as the Top. When the Top was accidentally killed fighting the Flash, Lisa swore revenge.
Drawing on her connections to super-villains, Lisa created weapons suited for her unique talents, like ice skates that created their own ice. Taking the name Golden Glider, Lisa embarked on elaborate schemes of revenge against the Barry Allen Flash. After Barry's death, the Golden Glider briefly retired, but eventually returned to crime. The Golden Glider was double-crossed and killed by her partner, Chillblaine.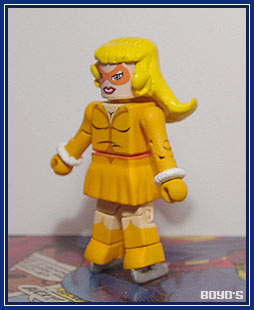 The Recipe
The Golden Glider is made from a repainted Minimate body. Her hair is made from Sculpey, and her chest is a water-transfer decal. Her skirt is a modified Mary Marvel Minimate. Her skates are made from Magic Sculpt and glued to her feet. The Golden Glider's face and mask are from digital printouts.
Originally posted February 2010