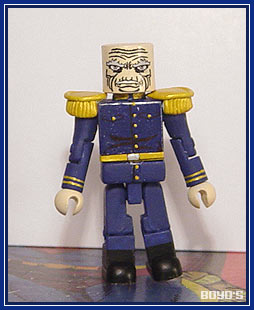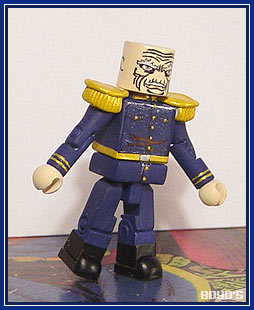 The past of General Immortus is unknown, even his true name and age. His centuries-long life has been extended by an alchemical potion, giving him years to gather great wealth and develop a powerful criminal organization. Immortus possesses a keen strategic mind, a bad disposition and a desire to rule humanity.
With supplies of his potion nearly exhausted, Immortus funded Dr. Niles Caulder's research to see if he could recreate the potion. Caulder would eventually discover his benefactor's evil nature and rebel against Immortus. Caulder would go on to found the Doom Patrol and continue to oppose Immortus' schemes.
The Recipe
General Immortus is made from a repainted Minimate. He's sporting short Minimate feet to properly capture his diminutive size. His shirt tails come from a Jigsaw Minimate, while his epaulettes are made from Magic Sculpt. His face and costume details are from water-transfer decals.
Originally posted June 2010