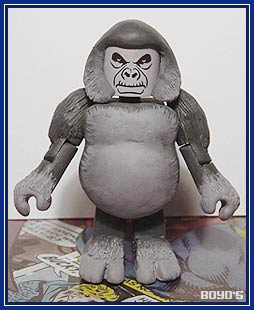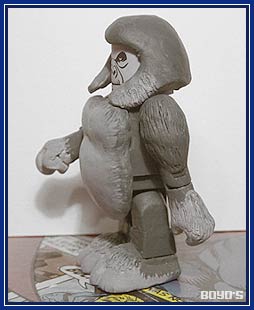 Hidden away in Africa is a secret society of super-intelligent gorillas known as Gorilla City. Most are peaceful animals who mean no harm to humanity - and then there's Grodd. Grodd possess an animalistic fury, superhuman strength and powerful mental abilities. He will not be satisfied until Gorilla City is his to command, and humans are the main course at his barbeques.
The Recipe
Gorilla Grodd started as an LOTR Aragorn figure. His legs were chopped off right under the knees to give him that stubby look. I glued the feet to the leg stumps, and them used Sculpey to make his distinct gorilla feet. His hands came from a KISS Minimate to give them a larger look, then Sculpey was used to blend them with the arms. His belly and facial hair were both made from Sculpey. Gorilla Grodds face is a digital printout.
Bonus! - Early Grodd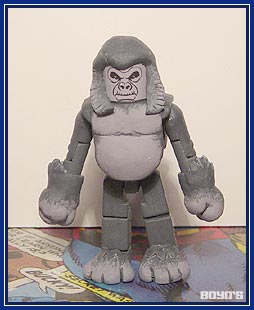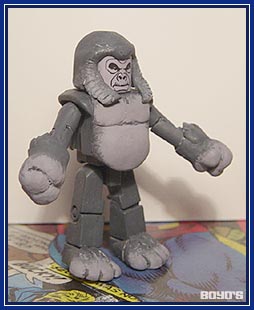 Before I started working with the larger 2.5" body, I thought that I could make Grodd with a 2" body (and use parts like Thing's fists and big chest). He turned out all right, but I was bothered by his lack of bulk and I felt his legs were too long.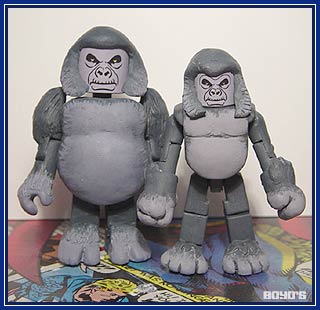 Originally posted October 2006