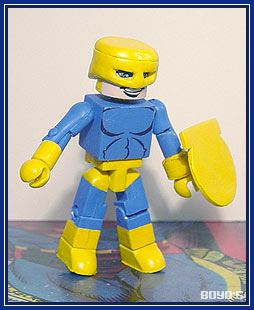 Policeman Jim Harper worked in the worst part of Metropolis - Suicide Slum. Fed up with the criminals the law couldn't touch, Jim became the vigilante known as the Guardian and began cleaning up the Slum. Along the way, he became the legal guardian to four orphans called the Newsboy Legion.
Years later, the Guardian was shot and killed. The Newsboy Legion, now adults working for the top-secret genetics research facility known as the Cadmus Project, had his body cloned and implanted his memories into the new body. In his new clone body, the Guardian protected Cadmus and the young clones of the original Newsboy Legion from harm.
The Recipe
The Guardian is made from a repainted Minimate body. His helmet is made from Sculpey, and his chest is a water-transfer decal. His golden shield is made from Magic Sculpt and used the connector from a Captain America Minimate shield. The Guardian's face is a digital printout.
Originally posted October 2008