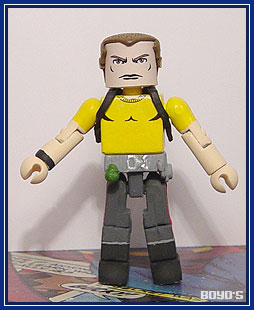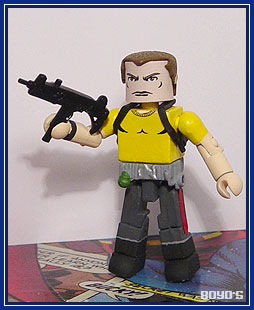 Rick Flag Jr. is a second-generation solider who followed in his father's footsteps to become the head of the Suicide Squad, a group of adventurers working for the government. Tragically, he lost half his team during a mission and suffered a breakdown.
Returing to action, Rick was chosen to lead the new Suicide Squad, a team made up of convicts who perform missions in exchange for time off their prison sentences. Haunted by his past performance, Rick struggled as the group leader, and evetually was presumed killed after he went rogue and activated a nuke under a terrorist base.
But since this is comics, Rick wasn't killed - he just ended up in the prehistoric land of Skartaris, then standed back on Earth in a foreign prison for years. Rick Flag was eventually rescued and is once again with the Suicide Squad.
The Recipe
Rick Flag Jr. is made from a repainted Minimate. His face is a digital printout. His hair comes from the Shocker Minimate, his belt comes from a Blade Minimate, and his shoulder holster comes from a George Mason Minimate. His other costume details come from water transfer decals.
Originally posted March 2009