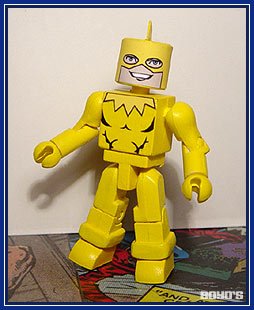 Reporter "Happy" Terrill was exposed to bizarre solar radiation in a balloon accident, giving him the power to absorb, store and process light to fly and fire heat or light blasts. "Happy" began fighting crime as the Ray, and served as a member of the Freedom Fighters during WWII.
In later years, the Ray settled down and had a son, Ray, who inherited his powers. To protect his son from developing his powers too early, the original Ray said his son had severe allergy to light, and had to live in the dark until he was eighteen. Ray eventually would realize his powers and became the second Ray. Happy and Ray's relationship has been strained ever since.
The Recipe
The Golden Age Ray is made from a repainted Minimate. His chest and costume details are a decal, and his bootcuffs were made with Magic Sculpt. His face is a digital printout, and his stylish head fin is made from stiff paper.
Originally posted July 2006