Black Canary (Modern Age)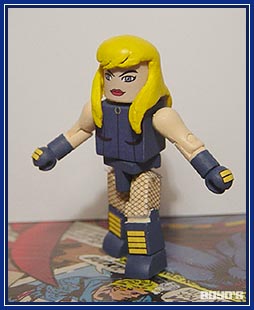 Daughter of the original Black Canary, Dinah Lance grew up around her mom's super-hero friends, and was inspired to become a super-hero. Her mother was against this, feeling it was too dangerous for her. But the younger Dinah had an advantage - her power to emit devastating sonic blasts (her "canary cry"). After rigorous training with her mom's friends, Dinah became the second Black Canary.
The modern Black Canary has been a member of the Justice Society of America and the Justice League of America, and acted as a field operative for Oracle. She is now married to Green Arrow.
The Recipe
Black Canary was made from a repainted Minimate. Her distinct fishnet stockings were made from netting glued to her legs. Her hair is made from Sculpey. Her face and costume details are digital printouts.
Originally posted February 2007