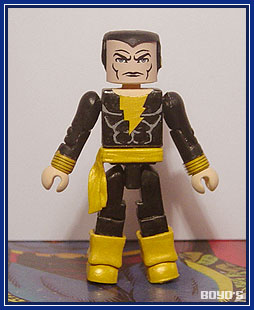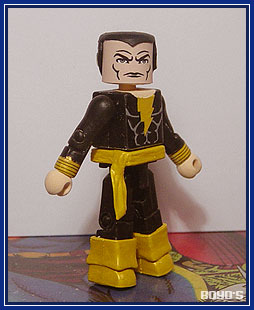 Born in ancient Egypt, young prince Teth-Adam is rewarded by the wizard Shazam with the magical powers of strength, stamina and wisdom. Known as Mighty Adam, he served as a champion for years until the death of his wife and child turned him bitter and vengeful. The wizard Shazam was forced to strip Adam of his powers, effectively killing him, and had Adam's body entombed in Egypt.
Many years later, Teth-Adam was magically reincarnated in the body of his evil archeologist ancestor. Death has not mellowed Teth, and has stuck to his vengeful, eye-for-an-eye ways.
The Recipe
Black Adam is made from a repainted Minimate. His face and costume details are made from a water-transfer decal and digital printouts. His boots come from a Shazam Minimates, while his belt is made from a modified Bullseye belt with Magic Sculpt details. His hair came for a Namor Minimate.
Originally posted July 2009