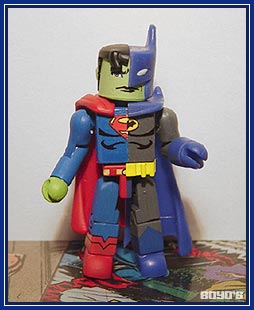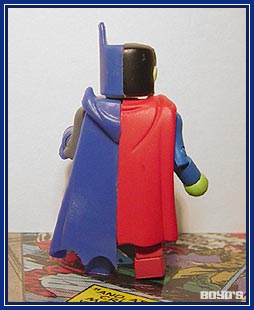 Bitter Joe Meach worked as a janitor at the Superman Museum, angry at Superman for being so much better than him. Then an accident with lightning and a set of Legion of Super Heroes statues gave Joe all of the Legion's powers. Joe seized the opportunity and transformed himself into the Composite Superman, determined to humble and ruin Superman and his friend Batman.
And it worked. Superman and Batman were no match for him. After soundly defeating them, Composite Superman was about to reveal their identities to the world when his powers just wore off. He was left ordinary Joe Meach again, with no memory of what he'd done.
The Recipe
The Composite Superman is a repainted Minimate. His hair/cowl and capes combo come from a Superman and Batman Minimates and some careful splitting down the middle. His face and chest emblem are digital printouts.
Originally posted January 2006