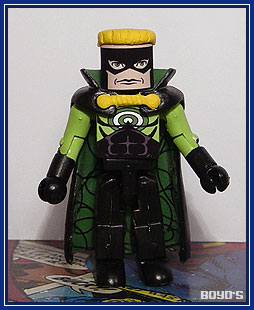 Count Werner Vertigo is the last member of the royal family of the Balkan country of Vlatvia. Armed with a device to distort people's balance, Count Vertigo originally came to America to take back his country's royal jewels, but ended up in many battles with Green Arrow and Black Canary. Vertigo became a long-time member of the Suicide Squad, dealing with his manic depressive tendencies while serving missions.
After the complete destruction of his country, Count Vertigo drifted aimlessly, sometimes going back to his villainous ways. Currently he is once again a member of the Suicide Squad.
The Recipe
Count Vertigo is made from a repainted Minimate. His cape comes from an Ocean Master Minimate. His face and costume details are digital printouts, while his hair is made from Sculpey.
Originally posted March 2009