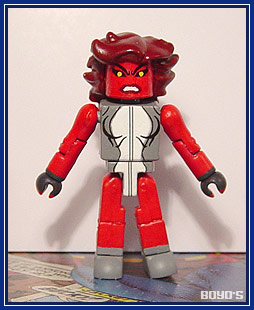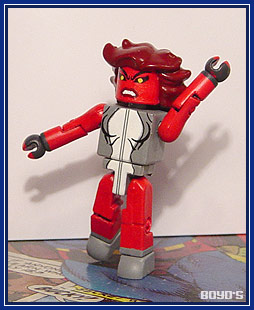 In 1962, Stan Lee and Jack Kirby created the Incredible Hulk. And he became a huge character. And so Marvel looked at the Hulk and thought, "How can we make more money from this idea?". And so, She-Hulk was created. And She-Hulk worked, which opened the floodgates for other spin-off ideas, like the Grey Hulk, Son of Hulk, and the latest one, the Red Hulk.
With this kind of track record, it's only a matter of time before they start combining these ideas. And so, with a nod to an inevitable future, I present the red She-Hulk. She hasn't appeared in any Marvel comics yet, but it's only a matter of time until she does.
The Recipe
The red She-Hulk is made from a repainted Minimate. Her face and costume details are from water transfer decals. Her hair is from a Kitty Pride Minimate.
Originally posted May 2009