Skrulls (First Appearance)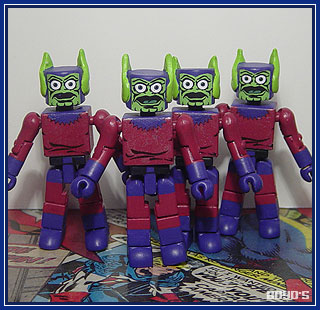 One of the oldest alien races in the Marvel Universe, the Skrulls were first seen way back in Fantastic Four #2. As green bug-eyed shaper-shifters, the Skrulls were practically taken from any alien invasion movie that were popular at the time - the comic book answer to the belief in "little green men from Mars".
Over the years, the Skrulls were change from little green space men to a galaxy-spanning alien empire to their most recent incarnation as one-dimensional religious terrorists (way to be current, Marvel!). But I've always kinda liked the Skrulls as they first appeared, with their bug-eyes, their wide frog-like mouths, and their good-natured incompetence. And the Jack Kirby artwork didn't hurt, either. And so, I made these customs Skrulls in tribute to their first appearance.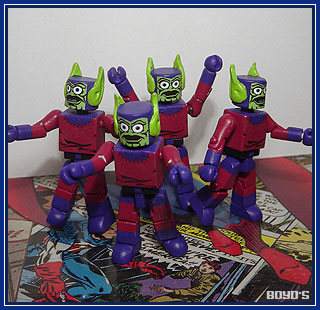 The Recipe
This mess of Skulls were made from repainted Minimates. Ears were sculpted from Sculpey, then glued to the head. The two different Skrull faces were made from digital printouts, and costume details were from water-transfer decals.
Originally posted January 2009