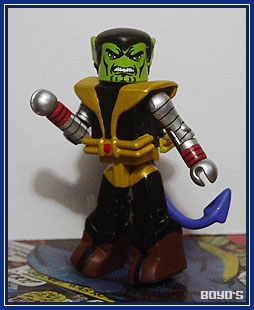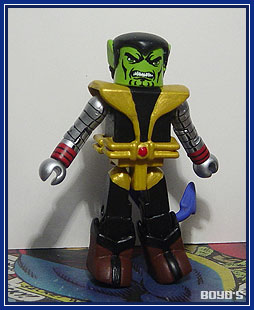 In Marvel's "Secret Invasion" mini-series, they introduced the idea that members of the shape-shifting alien race, the Skrulls, had developed technology that allowed a Skrull to duplicate the powers of four different super-heroes. This, of course, inspired the Skrulls to invade Earth and have lots and lots of splash pages full of Super Skrulls, driving comic book readers to try and figure out which super-heroes each Skrull was mimicking.
One of the first new Super Skrulls that appeared had X-Men super-powers, and while he didn't do anything interesting except get blown up, he had a great look to him. And as I thought about it, I realized that with some extra Minimate parts and some paint, I could create my very own X-Men Super Skrull.
The Recipe
The X-Men-style Super Skrull was made from a repainted Minimate. His tail, boots and chest piece were taken from Nightcrawler, Wolverine and Colossus Minimates. His Skrull face was made from a water-transfer decal, and his headpiece comes from a Super Skrull Minimate.
Originally posted January 2009