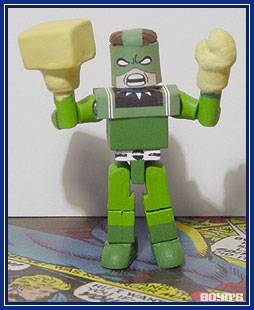 Caught in an accident that changed him into living sand, the Sandman has gone on to fight practically everyone from Spider-Man to the Hulk to the Fantastic Four.
Sandman is depicted here in his second outfit, a snappy number designed by Jack Kirby. It allowed him to mix his sandy body with various chemicals to create sandy oil slicks or frozen sand.
The Recipe
The Sandman uses modified Thing hands for his sandy fists. His face and shoulder pads are made from a digital printout on cardstock. His hair is made from Sculpey.
Originally posted October 2004