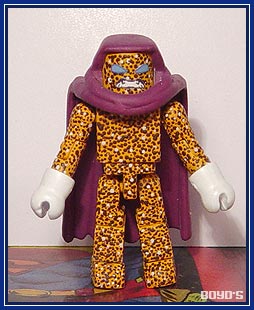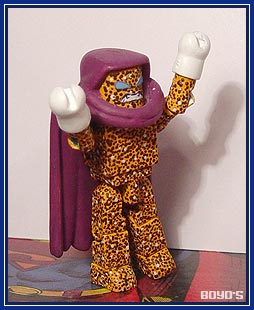 After World War II, former Nazi scientist Fritz von Meyer went into hiding in South America, continuing his research into poisons and bee keeping. He discovered a unique hive of mutated bees, but while trying to capture the hive's queen, the bees attacked and devoured Fritz's body. Read that again - mutated bees ate a Nazi scientist's body. That, everyone, is a truly unique origin in comics.
Anyway, while Fritz's body was digested, his mind survived, and though the unique quality of the mutated bees, Fritz's consciousness became divided in each bee. Now sharing a group mind, the bees formed around Fritz's skeleton in a human shape and called itself Swarm. Swarm would travel to America with a desire for conquest and ending up feuding with the Champions, Spider-Man, the Runaways and the Thunderbolts.
The Recipe
Swarm was made from a carefully repainted Minimate - lots and lots of little dots made by a straight pin dipped in paint. His modified cape and hood come from a Dr. Doom Minimate. His gloves come from a Mr. Fantastic Minimate.
Originally posted July 2009