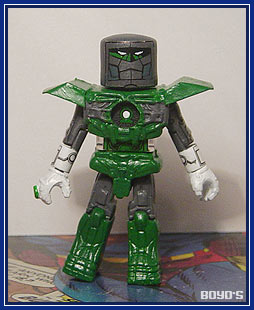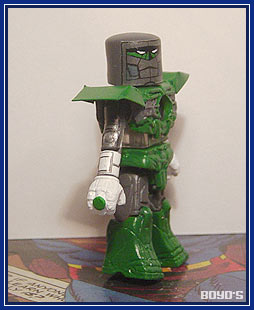 Stel is a member of the galaxy-spanning police force called the Green Lantern Corps. As a living robot, Stel offers a unique perspective to the Corps, as well as the ability to rebuild and upgrade his body as necessary.
For the continuity-minded out there, Stel is based on his appearance from Green Lantern vol. 2 #183, when he was resurrected from death to save his planet from invaders. It features the most detailed art from Carmine Infantino I've ever seen - it has a George Perez-level of detail.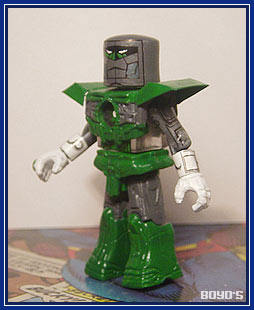 The Recipe
Stel is made from repainted Minimate parts. His legs come from a movie Iron Man Minimate, while his torso, chest piece, arms and hands come from a Terminator robot Minimate. Stel's chest piece has been modified, with added shoulder fins made from thin plastic. Stel's head is from an Iron Man Minimate helmet. Details to his chest, arms and face are provided by water-transfer decals.
Originally posted November 2009