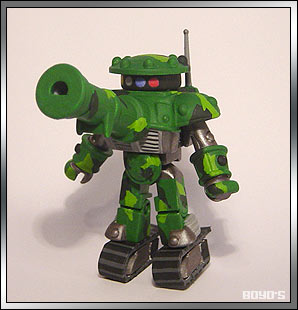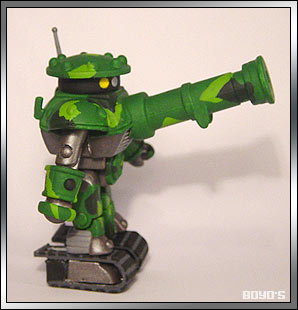 Like an annual event, the Charitymates figure auction returned for 2010. This year the theme is "A Convoy of Robots", and customizers were invited to create Minimate robot customs, with their creations to be auctioned off for the charity Convoy For Hope. Customizing robots really appealed to me, and I ended up creating several different robots for the auction.
The second robot I made was inspired by my Parts Bin, where I keep a collection of Minimate parts and other odd things. I was thinking about a G.I.Joe bazooka that I'd had for years, and it randomly occurred to me that it might look good stuck in the chest piece from a STRIPE Minimate. Some quick Dremel work later, and I created something that looked like a tank turret, and I knew I was on to something. Raiding the Parts Bin again, I came up with a walking robot tank that I named Art.U.238.
Art.U.238 even comes with a customized fictional history: Short for Artillery Unit #238, the robot Art.U.238 was created by the Orion Pool, a multi-planet military coalition. The Artillery Units are semiautonomous robots designed to give artillery support to the Orion ground troops, each designated by a three number call sign. Each Artillery Unit can deliver variable payloads through its chest-mounted cannon, ranging from high explosives to incendiaries to chemical weapons, and come equipped with a standard multi-function targeting system and all-terrain tracks capable of providing them a top speed of 65 mph.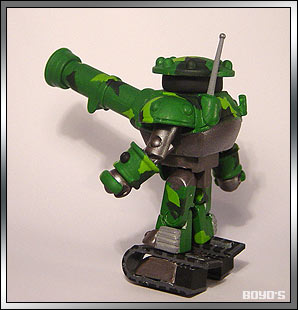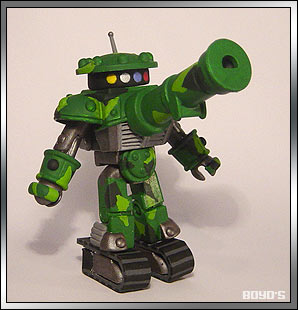 The Recipe
Art.U.238 is made from a repainted STRIPE Minimate. His chest piece was cut to allow the barrel of a toy bazooka to be inserted, then secured with Magic Sculpt. His head is from a Hawkman shield attached to the chest piece with Magic Sculpt. The antennae on Art's back was made from a bristle from my wife's hairbrush, with a base made from Magic Sculpt. His wrist bands are from a KISS Minimate.
Art's leg details and torso shield were also made from Magic Sculpt. His tank tread feet are made from wire clips left behind by our cable installer. I trimmed them considerably to make them fit 3" Minimate feet, then painted them with the tread pattern.
Originally posted May 2010