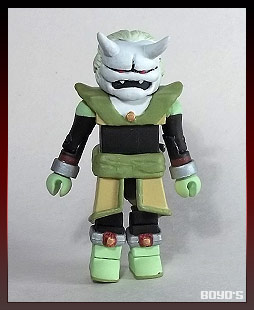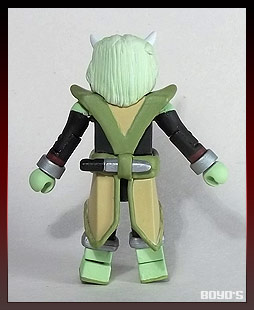 Like something that occurs every year, the annual Charitymates Minimate auction returned for 2011. This year's theme is "Fighting for Japan", and customizers were invited to create "super tournament fighter" customs for auction, with proceeds going to help Japan rebuild from their recent earthquake.
I thought about ideas for my fighter and kept coming back to Japanese Oni masks, and how cool they would look Minimate-sized. So I started with sketches, went through my Parts Bin, did a bunch of sculpting work, and came up with Sasu, the Japanese assassin.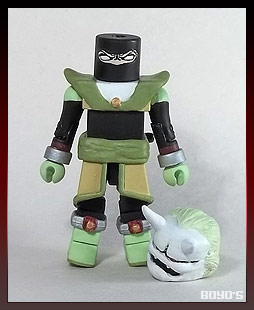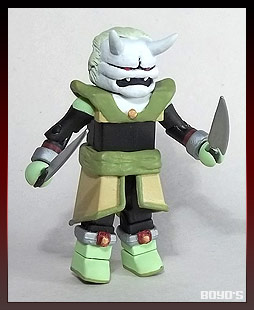 The Recipe
Sasu is made from a repainted Minimate. His helmet is an original sculpt based on Oni masks. I made it from an Iron Man helmet, sculpting the mask on piece by piece from Magic Sculpt. Once the mask was ready, I added the hair and horns. His shoulder pads come from an old Nightcrawler chest piece. I cut the lower front half away and added some details with Magic Sculpt.
Moving down, Sasu's skirt is made from cut plastic, bent to shape, then attached to a belt piece with glue. I then used Magic Sculpt to add details like the belt and piping on the skirt edges. Magic Sculpt was also used to make the knife loop on his back (which is still removable, by the way). The bands on Sasu's arms and legs come from an X-Force Wolverine, with some details added with - you guessed it - Magic Sculpt. His knives were originally for G.I. Joe rifle attachements, trimmed to work with Minimate hands.
Originally posted May 2011