Street hustler little b comes from a photo scavenger hunt that was held in 2007 on the Minimate Mutliverse forum. The contest required you to use a custom Minimate in each of your photos, so I put together one out of spare parts and called him little b. One of the contest entries asked for your custom Minimate to be dressed as a pimp. So I put together a quick outfit for little b, and took the photo you see below.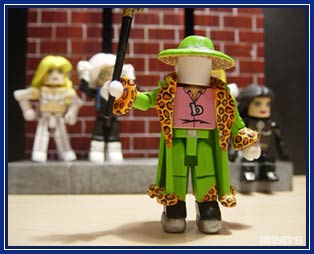 Once the contest was over, I had really grown fond of the mack-daddy treatment I had put together for little b, so I decided to keep him. I gave him a set of jewelry-encrusted hands for maximum bling. And for the face, Wolverine head that looks trashy, but not too trashy.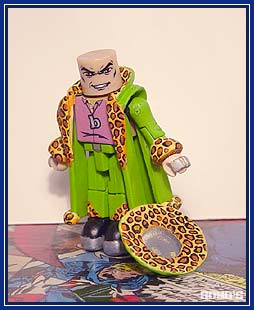 The Recipe
little b is made from a repainted Minimate. He sports a trenchcoat from the Blade Minimate, with additional details added with Sculpey. His hat, platform shoes and bling-bling on his hands are also made from Sculpey. His shirt and stylin' necklace are a digital printout, and his face comes from a New X-Men Wolverine.
Originally posted April 2008