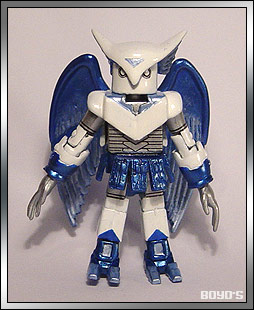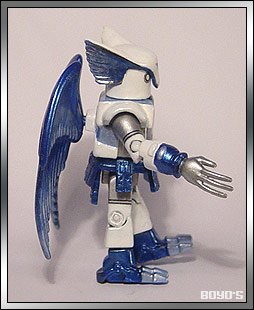 Like an annual event, the Charitymates figure auction returned for 2010. This year the theme is "A Convoy of Robots", and customizers were invited to create Minimate robot customs, with their creations to be auctioned off for the charity Convoy For Hope. Customizing robots really appealed to me, and I ended up creating several different robots for the auction.
The third and final robot I made was inspired by my Parts Bin, where I keep a collection of Minimate parts and as I discovered digging through it recently, a lot of spare Hawkman wings. One day while thinking about what I could do with those wings, I realized that modern Cylon feet would work as robot bird feet. With a quick sketch, I created the design for a humanoid bird robot, and Fe@ther was born.
I even put together a fictional history for Fe@ther: In 2092, theme parks took a massive step forward with the "Mek-animal" project. The goal was to use cutting-edge artificial intelligence in twelve animal-human robot bodies, designed to roam the park and interact with guests. Due to massive programming oversights, the robot animals realized they hated dealing with people and promptly fled the park. The robots now live the wild, avoiding contact with humanity. However, certain Mek-animals such as Fe@ther have made friends on occasion with curious people.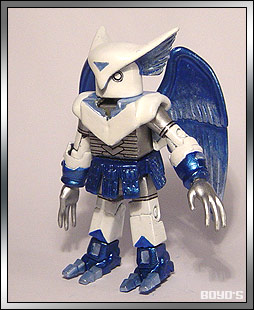 The Recipe
Fe@ther is made from a repainted Minimate. His winged headpiece comes from a modified Hawkgirl helmet. His chestpiece is a modified New X-Men Cyclops jacket, with the wing sockets from a Hawkman chest glued to the back. This allows the Hawkman wings to attach, and give Fe@ther his impressive set of wings.
Fe@ther's hands are made from the gauntlets from Lex Luthor, with modern Cylon hands glued to the end. His skirt piece comes from a Cylon Warrior Minimate, while his feet come from a modern Cylon. Fe@ther's arm, leg and face details all come from water-transfer decals.
Originally posted May 2010