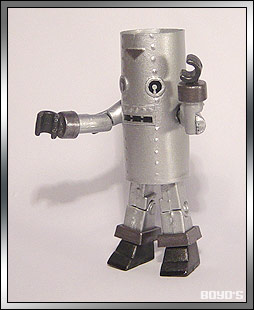 Like an annual event, the Charitymates figure auction returned for 2010. This year the theme is "A Convoy of Robots", and customizers were invited to create Minimate robot customs, with their creations to be auctioned off for the charity Convoy For Hope. Customizing robots really appealed to me, and I ended up creating several different robots for the auction.
The first robot I made was based on my love of the robots from old 1930's movie serials. Watching some unfortunate actor wearing a water heater tank, flapping his tube arms menacingly and trying not to fall over is strangely amusing to me. So I created a custom robot tribute to those simpler robot times, named Otto Tobor.
If Otto Tobor had a fictional history, it would probably go something like this: Created by a bright and ambitious Hollywood prop-master, the robot Otto Tobor was programmed with only the finest acting protocols, and starred in numerous movie serials such as "The Undersea Robot", "Robot Men on the Moon", and "The Phantom Robot". Still functioning today, Otto's acting glory days may be behind him but he can still be seen auditioning for movie roles and TV reality shows.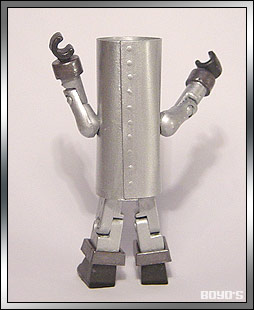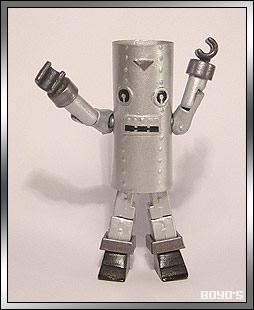 The Recipe
Otto Tobor is made from a repainted Minimate. His circular body is made from packaging plastic cut to size, rolled around a Minimate torso, then glued together. His eyes, mouth and triangle details are also made from cut plastic. The rivet details on Otto's arms, legs and body are created from small drops of Elmer's Glue applied carefully with a straight pin.

Otto's wrist cuffs are from a Captain Marvel Minimate, and his hands come from a Stikfas figure. His leg cuffs come from a Star Trek Minimate, and his feet are the "duck feet" from a Hulk Minimate.
Originally posted May 2010